Support Kidzu Children's Museum
Since 2006, Kidzu Children's Museum has nurtured the creativity and confidence of thousands of area children. Throughout these months of uncertainty, Kidzu has continued to provide activities, programs, and resources for children and families throughout our community via our Kidzu@Home webpages.
The health and well-being of our visitors, our staff, and our families continue to be our top priority. As of November 4, 2020, we will begin welcoming families back to the museum, under strict safety and health protocols, with a staff eager and ready to engage in what is sure to be restorative play.
We are counting on donations from friends like you who understand the important role Kidzu plays in the lives of so many children. This has been a challenging time for everyone. We hope you'll consider making a contribution to help Kidzu provide access to play and educational activities for our community. Your donation is a gift that goes beyond Kidzu's doors. Thank you for your participation.
**Kidzu is a 501(c)(3) nonprofit. Your donation is tax-deductible to the extent the law allows.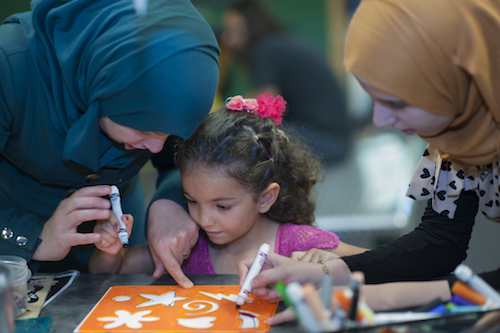 Support Kidzu Through Amazon Smile
Start your Amazon.com shopping here, and Amazon will donate
a portion of the proceeds from each purchase to Kidzu Children's Museum.
Note that it will say CHAPEL HILL-CARRBORO CHILDRENS MUSEUM aka Kidzu Children's Museum, our tax exempt organization name.
We are very grateful for your help. Please contact Greg Dills with any questions.
THE ARTS
Kidzu was designed with artwork from local and regional artists. Those same artists and more collaborate with Kidzu visitors on a weekly basis through programs included with admission.
STEM
Kidzu incorporates Science, Technology, Engineering, and Math components into exhibits and programs. Visitors of all ages can craft with real materials, tinker with real tools and explore new technologies as they create a wealth of creative projects.
LITERACY
All of our exhibits incorporate books and have literature related to each exhibit area. Burrow in, share a good read, and enjoy storytimes in both English and Spanish.
CHILD HEALTH AND WELLNESS
Museum exhibits bring the concepts of gardening to life and celebrate local food and the farm to fork cycle. Gross motor skills are tested giving visitors the opportunity to jump, climb, and stretch.