New options to celebrate your child's birthday
at Kidzu!
A family-friendly affordable option for those who want to "do it yourself."
Party Specifics:
Includes 1.5 hours private room rental

Admission for up to 20 children and their caregivers ($12 each additional child)

Table covers, access to kitchenette and fridge

Birthday photo backdrop and props
Kidzu staff member to take care of trash and clean-up at the end
Please note: There is not a theme or staff led activity for this party type.
Upgrade your party to a deluxe party theme for a special day to remember!
Party Specifics:
Includes everything from DIY Party plus:

Staff assisted Kidzu exclusive theme (see below) with corresponding activity for up to 20 children
Kidzu staff assistant (will assist with setup and cleanup)
Standard white utensils, plates, cups and napkins for 35 people total
Memorable keepsake for the birthday child
Photo booth backdrop with props and room decor matching your chosen theme
Get ready to experience Kidzu on a whole new level with a private VIP experience!
Party Specifics:
These parties have specific dates and times that they can be scheduled and provide exclusive use of the museum exhibits – including the Makery

Parties booked during private hours include admission for up to 35 children and their caregivers.

See below for options and themes
Please note: VIP parties are subject to availability and must be booked 3 weeks in advance.
DIY* and Deluxe Themed
Scheduling Choices:
*DIY Parties can also be scheduled on Wednesday evenings from 5:00-6:30pm
VIP Exclusive Party
Scheduling Choices:
Saturday time options:
6:00-9:00pm
Sunday time options
9:00am-12:00pm

Costs
DIY Party:
$250
Deluxe Themed Party:
$300 for Kidzu current members
$350 for non-Kidzu members
VIP Exclusive Party:
$400 for Kidzu current members
$450 for non-Kidzu members
All parties require a $50 non-refundable deposit to hold date/time.
Add-Ons
$5 each goodie bag
$12 each additional child
$20 printed group photo for party guests
$25 hair chalk
$25 L.E.D. Wand Upgrade (Potter Party Only)
$50 Pizza, chips and bottled water for 20 people
$50 Custom Theme
$100 Escape Room  (VIP Exclusive Parties Only)
Host Your Event at Kidzu!
Your next event deserves a fun atmosphere and an excellent facility! Rent the whole museum or a private room. Looking for creative space for your group to gather or eat a quick meal? Our vibrant and open gathering space will provide the perfect backdrop for your next meeting, luncheon, training, or retreat. Dates are subject to availability and non-profit discounts are available.
Room Rentals
Our private gathering space is rented in 1-hour increments. Rental hours must include setup and break-down. Click here for more details about what's included, cost, and rental times.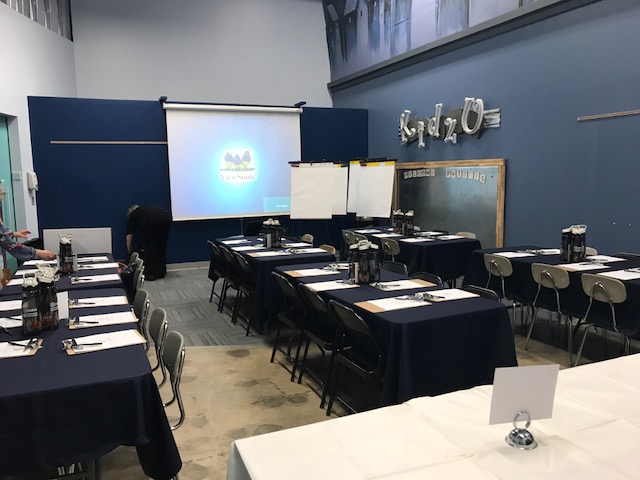 Rent the Museum
Treat your guests to an out-of-the-ordinary event they'll never forget! You will be magically transformed into kids again. Featuring work by local artists and creative exhibits, much of your decorating is already done. With 7,000 square feet of museum space, we can accommodate groups of up to 200. Click here for more details on what's included, cost, and rental times.
About Kidzu
Kidzu Children's Museum is a hands-on museum dedicated to inspiring young children and the adults in their lives to learn through purposeful play.
We invite you to get involved with Kidzu and help us build a permanent museum that serves all children in our community and inspires learning through purposeful play!
Hours
Tuesday - Saturday
10am-5:00pm
Wednesdays extended hours until 7pm
Sunday
1-5pm

Closed Monday
Admission
Free for members
$8.50 per child over 12 months
$8.50 per adult
Free for children 11 months and under
$3.00 for EBT cardholders
$7.00 each for seniors 65+
$7.00 each for military families
Kidzu is proud to be a Blue Star Museum
*Prices do not include tax
Location
Inside University Place
201 S. Estes Drive,
Chapel Hill, NC