Tuesday – Saturday | 10:00 am – 5:00 pm

Sunday | 12:30 pm – 5:00 pm
Enjoy all-day admission at Kidzu! Once you check in, you and your group are welcome to stay as long as you'd like to play in the museum. Scroll down to see museum admission and traveling exhibit ticket options.
Tickets (All Ages)




Museum General Admission




Kidzu Members




FREE




Non-Members




$8.50

Museums for ALL National Access Program

Discounted Admission for EBT/SNAP/WIC Recipients




$3.00
Kidzu Children's Museum is a hands-on museum dedicated to inspiring young children and the adults in their lives to learn through purposeful play. We invite you to get involved with Kidzu and help us build a permanent museum that serves all children in our community and inspires learning through purposeful play!
Kidzu provides a social narrative, a short story written from a child's perspective, to help prepare you and your child for your visit to the museum. The social narrative can be downloaded and printed here before your visit or copies are available at the front desk. Thanks so much to TEACCH for their guidance in developing this and our Cool Down Kits – available to all visitors while at Kidzu. Cool Down Kits include sensory items, timers, fidget toys, noise-cancelling headphones, and visual prompts for exhibit choices. See a member of our team to check them out!
Your health and safety is our top priority. We've implemented the following practices into our reopening plans so that we can welcome you back safely: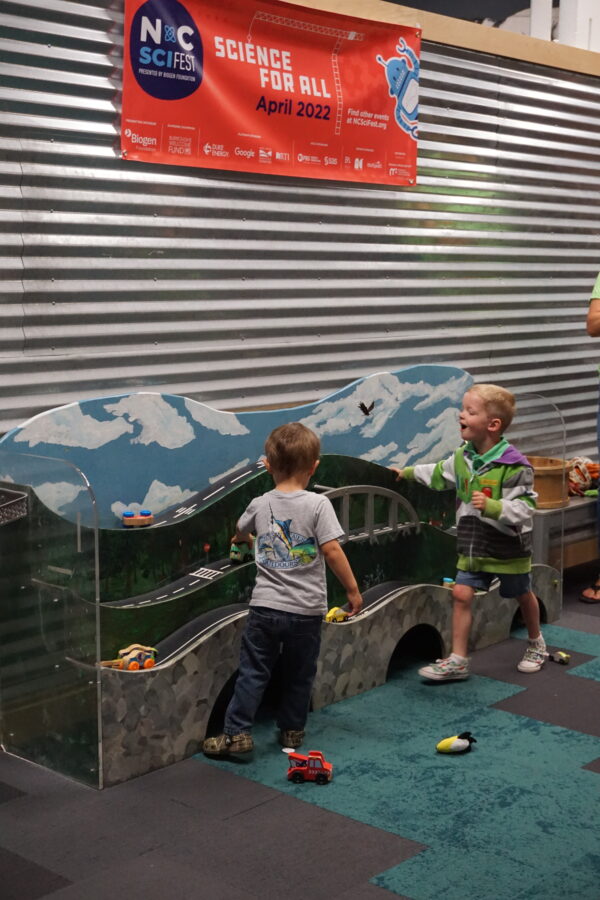 All Kidzu staff, volunteers, and interns must complete the full COVID-19 vaccine series or receive a valid medical or religious exemption. Those with exemptions are subject to daily symptom monitoring, weekly surveillance testing, and other protocols applicable to those who have not been vaccinated. 
Enhanced cleaning schedules in accordance with CDC guidelines and standards set forth by the Association of Children's Museums
Frequent sanitizing of common touch areas and exhibit items using EPA approved disinfectants
12 hand sanitizer stations throughout the exhibit areas
All exhibit props/toys are on a rotation to ensure proper cleaning between each use
"Tasted toys" baskets are provided near every exhibit
PPE (gloves, masks, sanitizers) purchased for the Kidzu team. Masks/gloves available to visitors upon request
Newly purchased electrostatic sanitizing sprayers for a quick drying, one-pass method to sanitize high-touch items and surfaces.
Masks are optional while visiting Kidzu, but strongly encouraged to help mitigate the spread of COVID-19 and protect our most vulnerable visitors.
Exploring our Exhibits - What to Expect
With 9 interactive, hands-on exhibits, Kidzu has something for every age! Our exhibit areas are self-paced with an open floor concept so you can guide your own experience throughout our museum.

Designated baskets are provided for visitors to use when their young kiddos place any exhibit items in their mouths. This is all part of the learning process! Once your little one is done with an item that has been put in their mouth, toss the item into one of these "Tasted Toy Baskets" and the Kidzu team will sanitize prior to placing the items back into the exhibits.
Children are to be supervised by their accompanying adults at all times while inside the museum. 

Please use walking feet as you move throughout the museum.

Food and drink are not permitted within the carpeted areas. For snacks and drinks, please use Kidzu's designated Caregiver Courtyard area toward the back of the museum. This area has tables and chairs available for visitors.

Please keep your shoes on, unless utilizing the "Tot Plot" exhibit for infants and non-walkers

All children must be accompanied by an adult 16 or older.

No adults will be permitted to enter Kidzu alone unless escorted by a Kidzu employee.
As a 501(c)(3) non-profit organization, your contribution goes a long way to supporting the daily operations and initiatives of our museum and the families we serve. We thank you for your continued support!
Membership is more than just unlimited admission to a community-centered museum: It's your family's invitation to exclusive events, exciting classes and programs, special discounts, and more! Annual and short-term memberships are available all year long.
Want to learn more about our innovative learning environments? Check out all of our exhibit spaces before your visit!
See whats happening at Kidzu today!