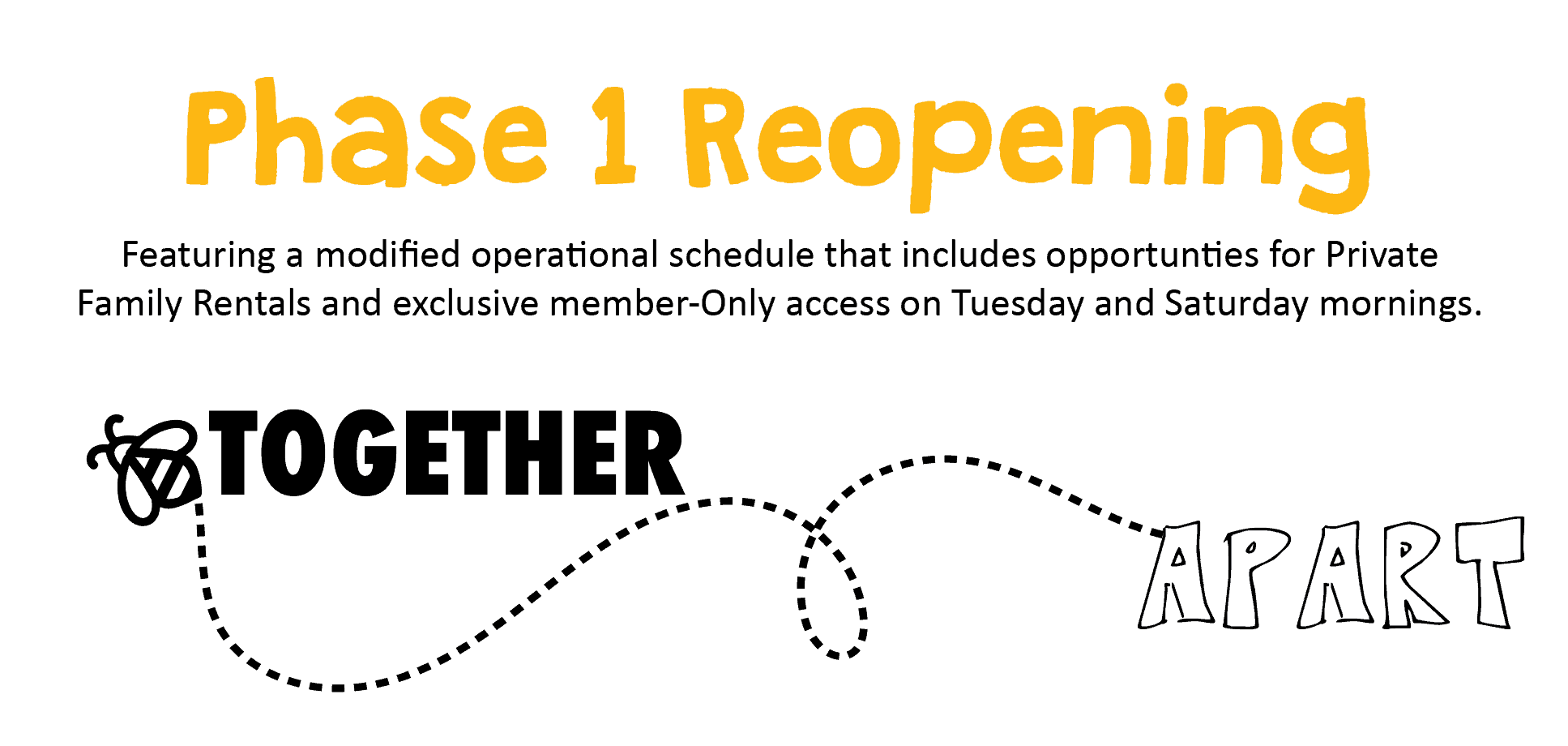 Welcome back! We've missed you. We're excited for your family to return to Kidzu Children's Museum. In order to keep our staff and your families safe, we've made a few changes to our operating schedule and the way visitors will reserve tickets and check in. With opportunities for Your Hive Only – Museum Rentals and special access for Kidzu members, we are ready to open our doors and welcome visitors again!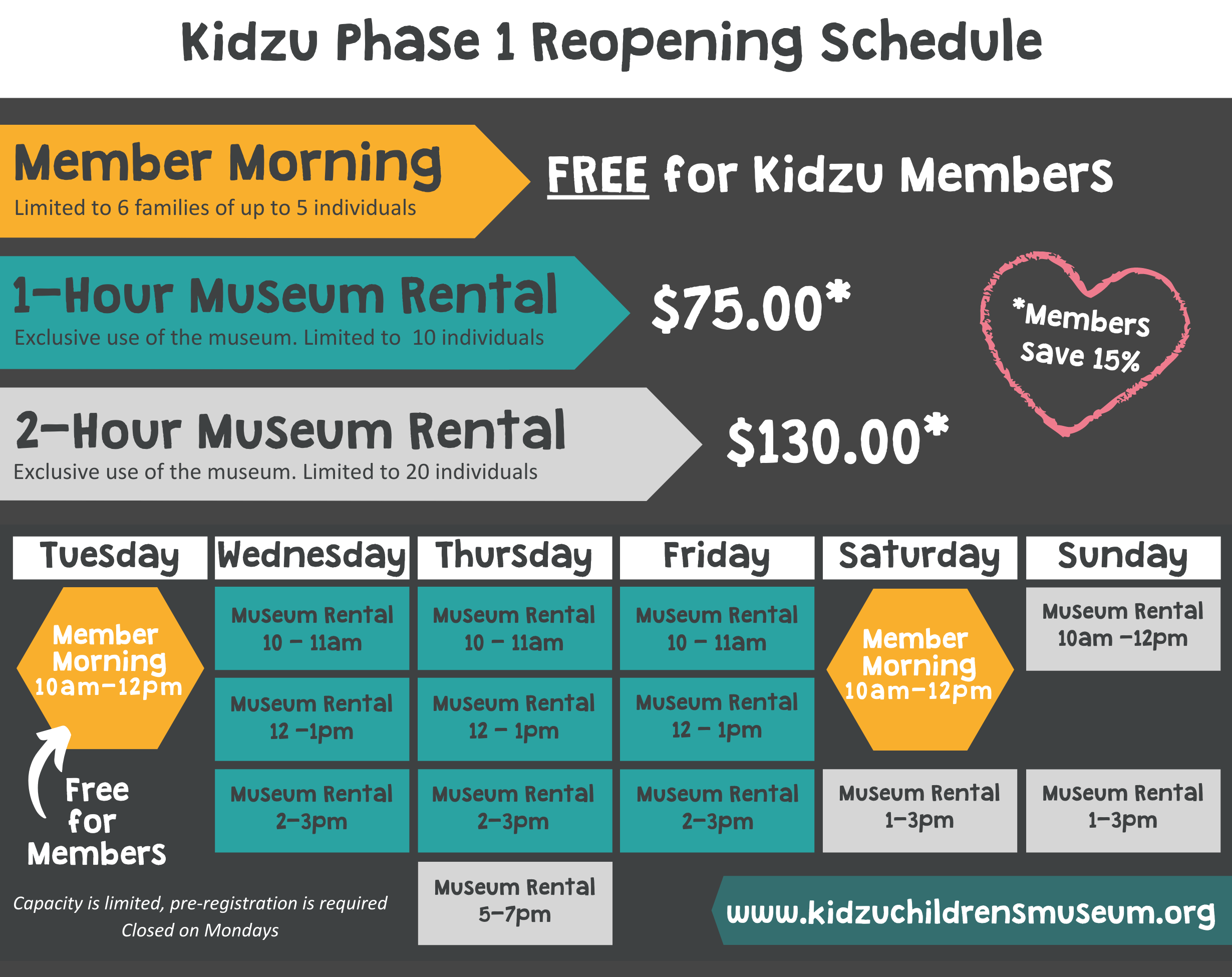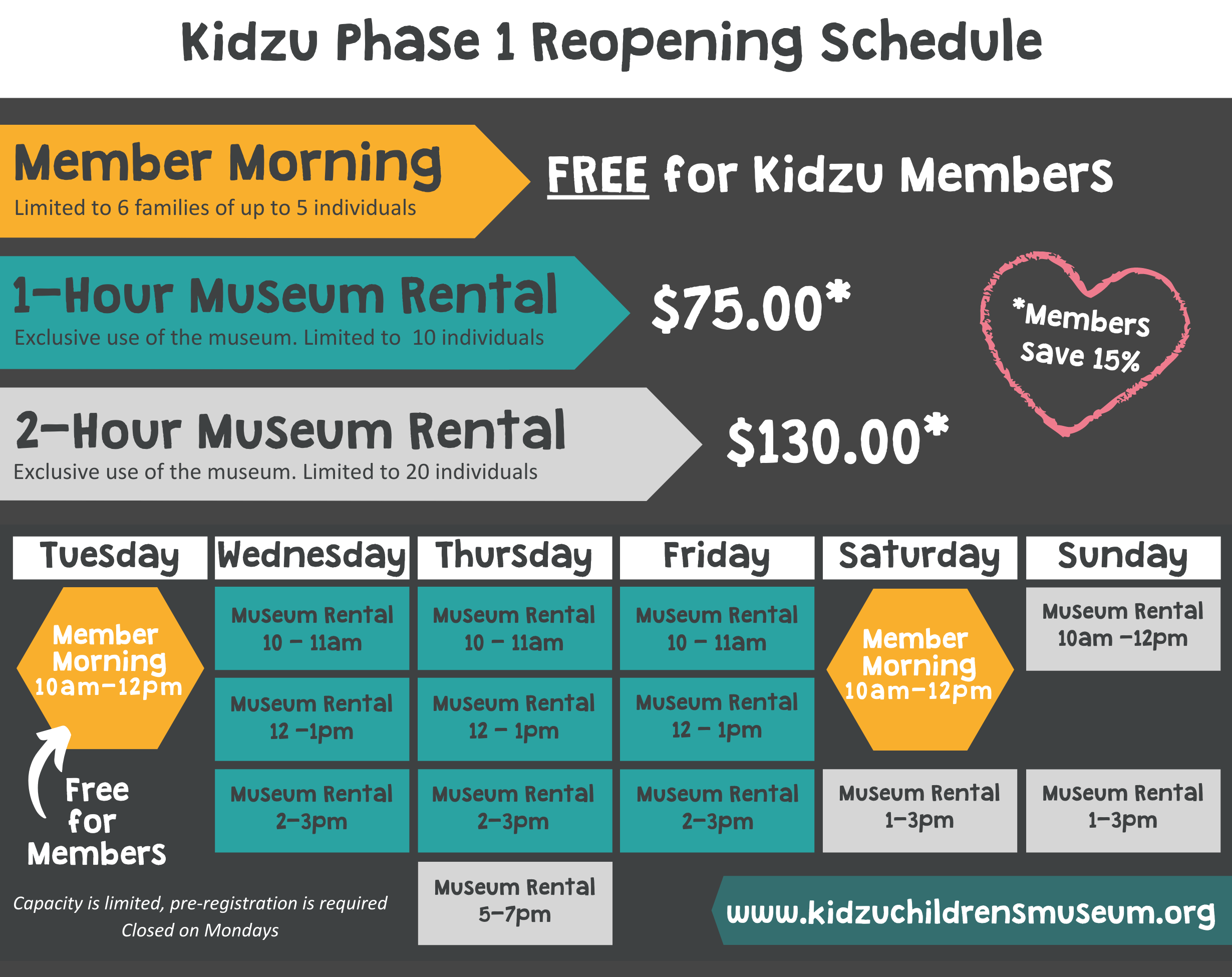 Enjoy FREE exclusive use to the exhibits AND Kidzu Makery on Tuesday and Saturday mornings! These 2-hour sessions are for members only, and will be limited to 6 families of up to 5 individuals. Admission to Member Mornings is FREE but pre-registration is still required. You must sign up for a specific entry time to allow for staggered entry, promoting safe social distancing upon check-in. For groups of 5 or more, please contact us directly so that we can do our best to accommodate your group.
Member Mornings are FREE for all Kidzu members.
1-hour and 2-hour Museum Rentals are currently available. Museum Rentals consist of one reservation of individuals within the same household or "quarantine-pod" (households that have been staying away from everyone else except each other!). We are limiting how many people can be in the museum at any given time. You will need to reserve a time slot online at least 12 hours in advance to visit with your group. At this time, use of the Makery is not available during museum rentals.
1-hour Museum Rental is $75* and 2-hour Museum Rental is $130*.
*Members save 15% on Museum Rentals!

Health and Safety
Your health and safety is our top priority. We've implemented the following practices into our reopening plans so that we can welcome you back safely: 
Enhanced cleaning schedules in accordance with CDC guidelines and standards set forth by the Association of Children's Museums

Frequent sanitizing of common touch areas and exhibit items using EPA approved disinfectants

Daily staff temperature checks and symptom screenings

12 hand sanitizer stations throughout the exhibit areas

Staggered entry during semi-open play times (member mornings)

Mask requirements for all staff and visitors over the age of 5, strongly encouraged for ages 2-5

All exhibit props/toys are on a rotation to ensure proper cleaning between each use

"Touched toys" baskets are provided near every exhibit

Museum map with suggested "flow" will be provided during Member Mornings to ensure proper social distancing when moving throughout the museum

PPE (gloves, masks, sanitizers) purchased for the Kidzu team. Masks/gloves available to visitors upon request
We Appreciate our Members!
All memberships that were active on March 15th, 2020 have been given a 7-month extension to reflect the time that has been lost during our extended closure. Members should receive an email communication with information on your new expiration date that will reflect this extension. For questions regarding your membership, please contact our membership director Kailey Singleton via email at
singleton@kidzuchildrensmuseum.org
As a non-profit organization in the midst of the COVID-19 crisis, membership and admissions from members of our community are imperative to Kidzu's ability to stay open and provide families with a safe space to learn and play together. Click here to purchase a membership or renew yours today!
How have member benefits changed?
The Kidzu team has worked hard to create a modified reopening schedule that ensures exclusive benefits and access for our dedicated members. Keeping health and safety at the forefront of everything we do, we have put our creative hats on and highlighted the following benefits to members!
Members-only access to Kidzu on Tuesdays & Saturdays for FREE from 10am – 12pm


Exclusive use of the Kidzu Makery during Member Mornings only.


Members save 15% on all Museum Rentals!

We understand that not everyone is ready to share the space with other families. With that in mind, we are providing Museum Rental opportunities, offering a discount to members. 
To be sure you receive your member benefits automatically, make sure you're registered with our online portal and logged in.
Exploring Our Exhibits – What to Expect
We've made some noticeable changes to our exhibit spaces and the ways in which visitors will interact with our space. Upon arrival, guests will be asked to respond to a symptom-screening questionnaire prior to entering the exhibit areas and will go over the Visitor Guidelines with all guests.
Visitor Guidelines:
Keep 6 feet apart from people not in your group.

Caregivers are asked to stay within "high-five" distance of children to help with group distancing.

Visitors ages 5 and older are required to wear face coverings indoors.

Face coverings are recommended by health officials for children between the ages of 2 and 5. 

Please use walking feet as you move throughout the museum

Food and drink are not permitted within the carpeted areas

Please keep your shoes on, unless utilizing the "Tot Plot"
Other Changes:
Contactless check-in! Please have your confirmation email ready to show the team when you arrive. You may display this on your mobile device, or bring a printed copy with you 

Designated baskets are provided for visitors to use when they've finished playing with an exhibit item. Once you're done, toss the item into one of these "Touched Toy Baskets" and the Kidzu team will sanitize prior to placing the items back into the exhibits 

The Book Nook is open! We have provided a basket for books that have been used. Once you're finished reading a book, place it into the designated basket to be sanitized

Most exhibits are limited to one group/household at a time. If an exhibit or area you wish to visit is full, please switch gears and visit elsewhere or wait patiently for capacity to become available.   

Drinking fountains will be temporarily closed off, but our water bottle filling station is always available! Visitors are strongly encouraged to bring their own water bottles.
As a 501(c)(3) organization, Kidzu is categorized as a nonprofit museum and is reopening in a limited capacity in accordance with orders set by the state of NC regarding covid restrictions/phases. See complete information pertaining to Museums from the NCDHHS website by clicking here. 
Need more information?
We've compiled some Reopening FAQ's to help answer additional questions you may have. If you need to contact a member of the Kidzu team, call us at (919) 933-1455 or send us an email at info@kidzuchildrensmuseum.org