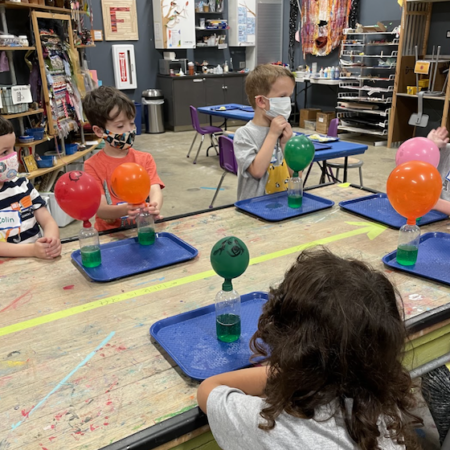 The kids are out for a teacher workday, and you're still expected at the office. We've got you covered! During our School's Out Camps, your child will engage with other school-aged children, while playing and exploring in our exhibits, tinkering in our Makery, performing in our Forest Theater, and creating STEM-based projects.
NEW CAMP HOURS! Each camp day runs from 9:30 AM – 3:30 PM with drop-off beginning at 9 AM. Pick-up ends at 4 PM. Masks required for all campers and staff. 
NEW! Members receive a 20% discount on Kidzu camps! Please note that member discounts do not apply to third party camps facilitated by Mad Science. Advance registration is required. Space is limited.
Notice: Kidzu Children's Museum is providing multiple in-person offerings simultaneously while following current COVID-19 health and safety procedures. This means that the museum space may be shared among both campers and general museum visitors during various portions of the camp day. If you have any questions or concerns, please do not hesitate to reach out to our Programs & Communications Coordinator, Darien Cropper, at camp@kidzuchildrensmuseum.org or (919) 933-1455.
Have questions? We've answered a bunch of them in our School's Out Camp FAQ! You can also reach out to our Camp Coordinator, Darien Cropper, at camp@kidzuchildrensmuseum.org.