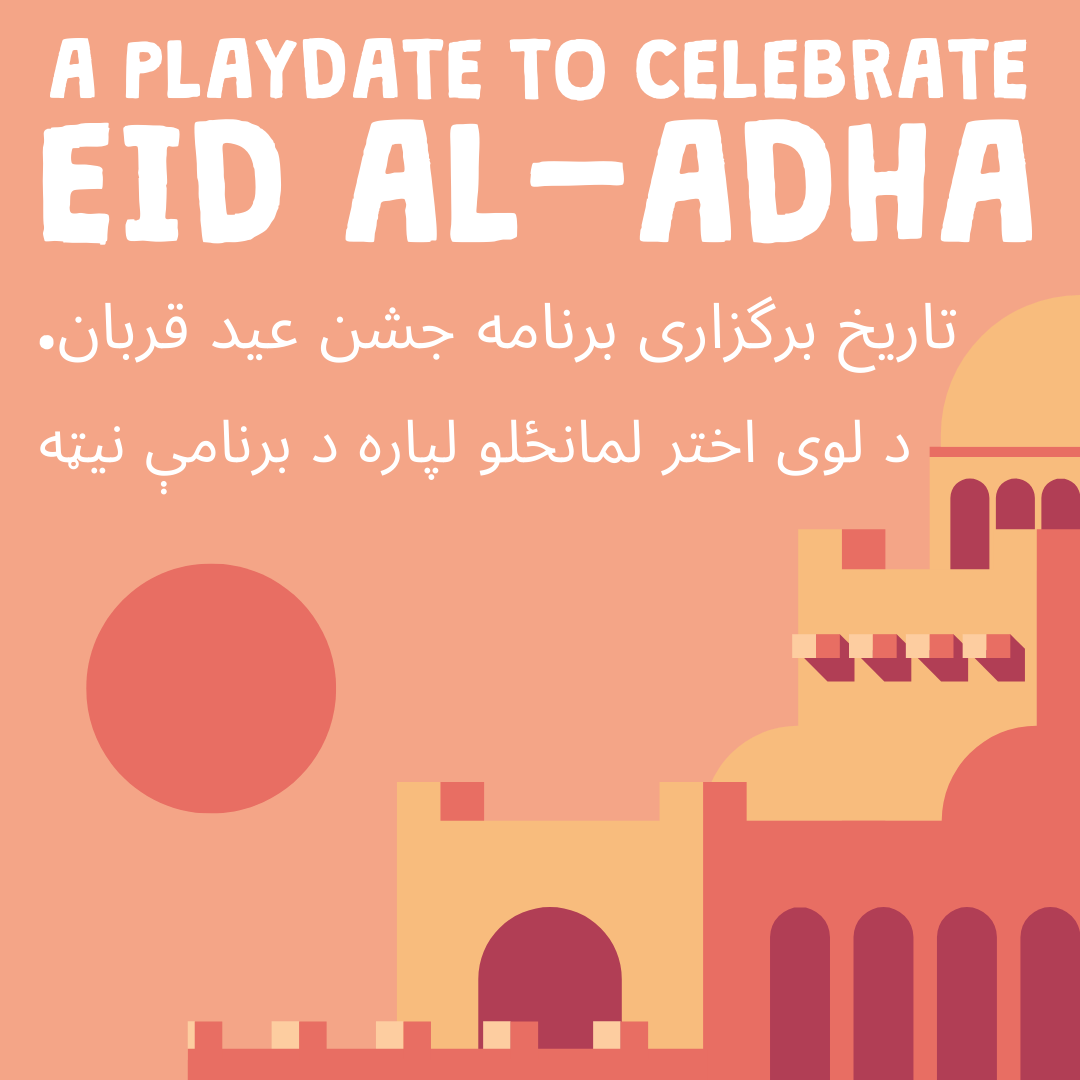 A Playdate to Celebrate Eid al-Adha | تاریخ برگزاری برنامه جشن عید قربان. | د لوی اختر لمانځلو لپاره د برنامې نیټه
From 9 AM – 10 AM, there will be a private playtime gathering of Afghan families to celebrate Eid al-Adha who are getting to know each other and living in a multicultural environment in North Carolina US.
گردهمایی خانواده های افغان برای جشن گرفتن عید قربان، آشناییبا یکدیگر و زندگی در یک محیط چند فرهنگی در نارت کارولینایایالات متحده.
د لوی اختر د لمانځلو لپاره د افغان کورنیو راټولیدل، یو بل سره پیژندل او د متحده ایالاتو په نارت کارولینا کې په څو کلتوري چاپیریال کې ژوند کول.
Kidzu will continue to celebrate Eid al-Adha from 10 AM – 12 PM with multicultural educational activities and a special storytime at 11 AM in Dari.
کدزو از ساعت 10 صبح تا 12 بعدازظهر با فعالیت های آموزشی فرهنگی و داستانی ویژه به زبان دری ساعت 11 به جشن عیدادامه می دهد
کدزو به د سهار له 10 بجو څخه د ماسپښین تر 12 بجو پورې د کلتوري زده کړې فعالیتونو او د سهار په 11 بجې په دري ژبه کېیوې ځانګړې کیسې سره د اختر لمانځلو ته دوام ورکړي