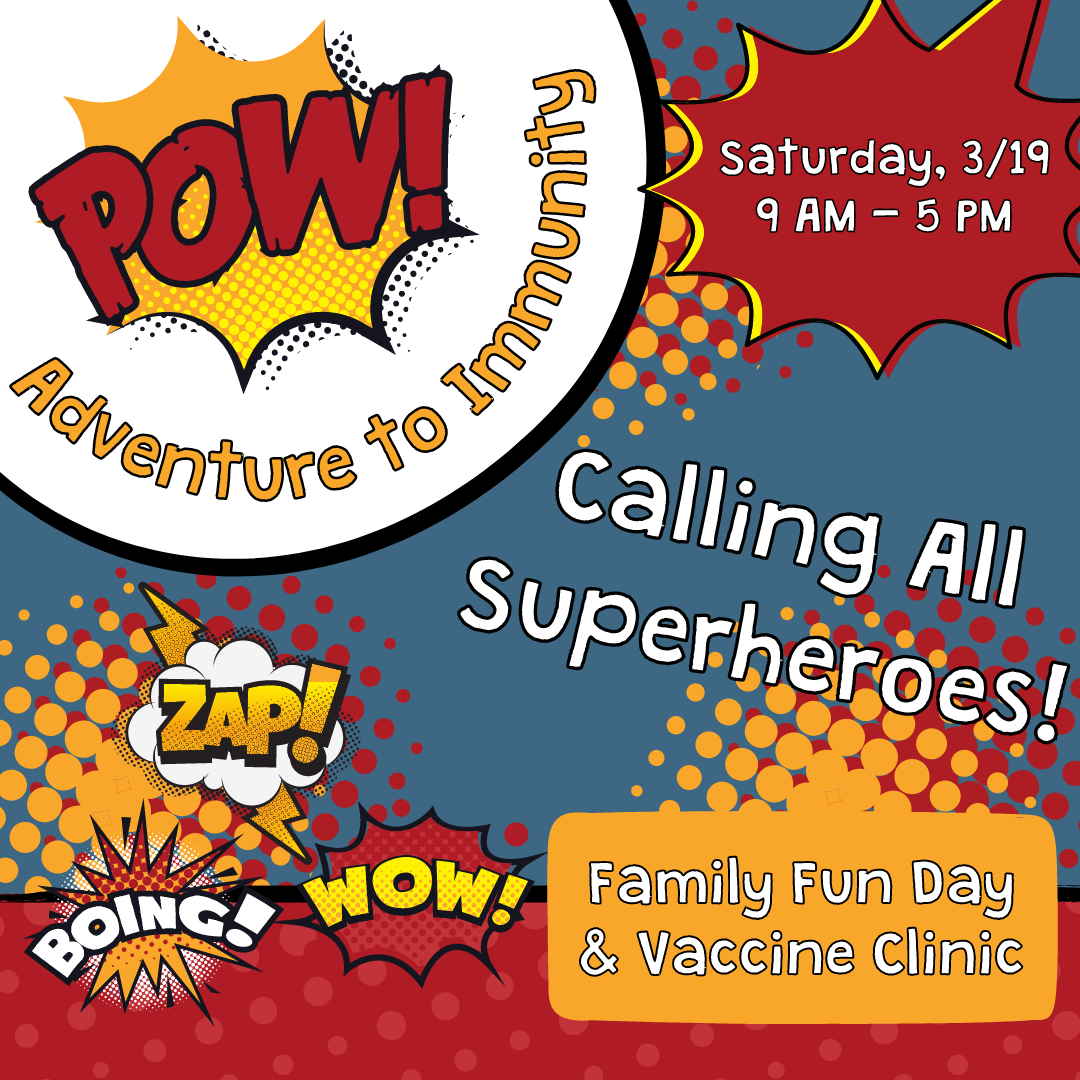 POW! Adventure to Immunity: Family Fun Day & Vaccine Clinic
Join Kidzu Children's Museum in our Adventure to Immunity on March 19th at University Place! The museum will be FREE and full of superhero scientists, artists, authors and performers to help bring out the superhero in us all! Children can navigate through the Teddy Bear Clinic, facilitated by UNC School of Medicine, and learn all about how to better take care of ourselves and our community. Join us on the stage for free performances every hour, including Jammin Baby, Puppet Show Inc, and a special performance and workshop from the Bouncing Bulldogs from 2-3PM. Scroll down to see the full stage schedule!
Power up and get vaccinated against COVID-19. Register for a vaccine appointment here! Please select Kidzu Museum Pop-Up Clinic.
**Pre-registration for a vaccine appointment is highly recommended to guarantee your appointment. There will be a limited amount of walk-in appointments. All families can enter Kidzu and participate in programming, not only those getting vaccinated.
Admission to Kidzu will be FREE all day from 9am-5pm! Corresponding colored wristbands will be given out to visitors on a first-come, first-served basis for each session available. Limited tickets are available for each entry time. If a session you wish to visit is full, you will have the opportunity to receive a wristband for the next available session. Capacity has been increased to accommodate more families but is still limited. Families will enjoy activities and performances on the stage and within the public mall areas from 9 am-3 pm!
Learn more about Kidzu's Winter Wellness Initiative. Have questions? Contact the team at 919-933-1455 or email info@kidzuchildrensmuseum.org
Hourly Schedule
Stage Performances
9:45AM

-

10:00AM

Storytime

Join us for a special storytime with local author Camille Andros reading her book "Charlotte The Scientist Finds a Cure"
10:45AM

-

11:00AM

Puppet Show

Enjoy a special performance of "The Grouchy Ladybug" and learn about socio-emotional wellness with Puppet Show Inc.
11:45AM

-

12:00PM

Music and Movement

Get your blood pumping with Jammin Baby!
12:45PM

-

1:00PM

Superhero Yoga

Activate your superpowers with a special superhero yoga session, facilitated by Growga and Little Dipper Wellness!
2:00PM

-

3:00PM

Bouncing Bulldogs

Jump around with the Bouncing Bulldogs! Learn how to double dutch and enjoy a Bouncing Bulldogs Performance.